How To Use Radio Advertising To Get Known As An Expert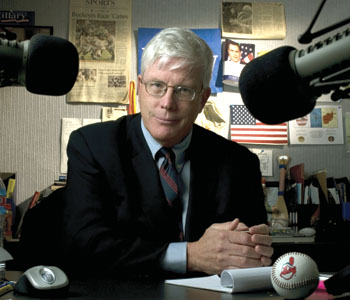 Radio advertising is a great way to get known in your community as an financial expert and promote your upcoming events.
Your ad must lead with a attention grabbing headline to get the listeners' interest. This keeps them from changing the station or just mentally tuning out.
Beware of letting your ad rep write your ad. Their goal is to sell ads and that's their main skill. They may or may not be able to write ads which help you. Remember that the ad costs the same regardless of how it performs. You want a "direct response" ad so you know if your ad pays for itself or not.  These type of ads include a very simple way for listeners to contact you, like an easy to remember website address or super easy phone number (for example, 334-555-7777).  The most effective direct response ads repeat the website address or phone number at least 3 times in the commercial to enhance recall.
The time and cost of producing a radio commercial is far below the cost of producing an equivalent length television commercial. And if an ad doesn't work you just record another one.   Most radio stations include free production as part of your advertising buy, which includes both the copywriting and voiceover assistance.
You must choose your radio station carefully. The listening audience's demographics must match your target market. Not your taste in music. A great ad on the wrong station won't build your practice.  Look for stations that have a large number of financially qualified listeners; some radio stations can supply you with that specific research data, especially in larger metropolitan areas.  You can also reasonably assume that stations that program a format that appeals to an older demographic will in general terms be more likely to utilize a financial planner, as opposed to stations that target listeners in their teens and 20's.  Formats that perform especially well with a more affluent audience of adults over the age of 45 include news, talk, oldies, jazz and classical stations.
Radio consultant and station owner Burke Allen from Allen Media Strategies recommends that you always negotiate with the station account executive.  "Electronic media sales reps tend to have quite a bit of flexibility with their per spot rate and placement so don't accept the first thing that is offered to you."
The two main categories of radio stations are commercial and noncommercial.
Commercial Radio Stations
Commercial radio stations play all kinds of music which appeals to all ages and social classes. As I mentioned earlier, the demographics of commercial radio vary widely so choose your station wisely.
Radio spots are typically 60 seconds long which is about 250 to 300 words. 60 seconds is plenty of time to create an effective advertisement.  Remember to start out strong to keep your listeners attention.
Best to use the radio station staff to record the commercial especially when you're promoting a seminar or other event. You want to be positioned as a financial expert not a used car salesman. "CFP" does not stand for "Certified Financial Pitchman"!
You can be the star if you use an interview format. You provide valuable information so people see it as a mini-radio show rather than a commercial. They pay attention and don't change the channel. Here's a simplified version of a commercial using this format:
The announcer begins with an introduction of you and your firm. "Time for today's Money Minute with certified financial planning professional Bob Johnson." This acts as the headline of the ad.
The announcer asks you a quick question, "Today's question is 'Does a will help me if my husband gets Alzheimer's?'"
You provide a clear and concise answer: "No. Wills only go into effect upon death not disability. If your husband was mentally disabled, you would need to go to court to set up a guardianship. This is costly, time-consuming, and embarrassing. Many couples avoid this problem with a living trust."
The announcer closes the ad with a call to action, "For a free report on estate planning essentials, call Bob Johnson of Johnson Wealth Management at 555-666-7777." The announcer should include your USP if time permits.  Remember to have them repeat your contact information at least three times to enhance recall.
Noncommercial Radio Stations
Public radio stations tend to program either a News/Talk format or classical/jazz/world music.  These formats appeal to older and more affluent audiences. You won't advertise, of course, you'll be a "supporter"of noncommercial radio. In recent years, public radio stations have expanded what supporters can say about their businesses. For example:
"Bob Johnson and Johnson Wealth Management support the arts community and Jefferson Public Radio. With systematic planning and proven strategies, Bob Johnson helps families prepare for all stages of life from college savings accounts, to funding a busy and vital retirement, to handling long-term care needs. You can reach Bob in his Medford office at 555-666-7777."
Listen to your local public radio station and get a feel of what they allow. Don't be afraid to push the envelope. Somebody has in the past and you might as well push it a bit further. Perhaps they'll allow a community announcement like this:
"Bob Johnson and Johnson Wealth Management support the arts community and Jefferson Public Radio. On Tuesday, July 5th, Bob Johnson will be holding a community seminar to help individuals and couple learn  how to avoid probate and minimize estate taxes. For more details and an invitation, call Bob Johnson in his Medford office at 555-666-7777."
These underwriter announcements are short and to the point, and are helpful not "salesy".  They work best if recorded by a well-known and well-liked station announcer, but are often read live at public stations.
When should your ads run? Morning and afternoon drive times are the most listened to time on radio, as about 70% of radio listening happens in-car. I helped one advisor who had a 15 minute "Financial Forum" every business day at 8 a.m. This time slot worked great. Another preferred time might be the noon news hour if the station has a large at-work listenership. Not all times are the same in terms of listening levels so try to get the best times possible.
In all cases, ask for a log of when the spots ran along with the spot name if you have several different ads running. You must know which ads are working and which ads need to be dropped.  If you run ads on more than one station you may find one station works substantially better than the other. In that case, drop the loser and double-up on the winner.