Marketing Lessons from Warren Buffett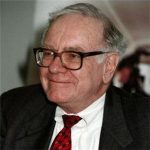 Warren Buffet released Berkshire Hathaway's annual shareholder letter on Saturday. Let's look at this letter and draw some marketing lessons for financial advisors.
Create an Event. Warren Buffett receives tons of free publicity before, during, and after his eagerly anticipated letter to shareholders is released each year.
What can a financial advisor do? Every April 15th, taxpayers line up at the post office to file their income taxes. You can provide them with hot coffee and cookies. Be sure to tip off your local newspaper about this special "tax relief" effort. Or perhaps there's an annual charity auction in your town. Donate a free pair of hearing aids and say that "My clients say I'm a good listener and appreciate hearing my financial advice. Let me help someone become a better listener this year."
Do your event every year and you'll get lots of publicity from it.
Be Consistent. Warren Buffett writes this shareholder letter every year. Not just in the good years. And he always presents an image of consistent, Midwestern, and reliable investing. You can't change your branding message and targeted clientele very often or you'll appear to be appeal to everyone and noone at the same time. Here's how a blogger for the Wall Street Journal describes this,
Every few years, critics say Warren Buffett has lost his touch. He's too old and too old-fashioned, they claim. He doesn't get it anymore. This time he's wrong.

It happened during the dotcom bubble, when Mr. Buffett was mocked for refusing to join the party. And it happened again last year. As the Dow tumbled below 7,000, Mr. Buffett came under fire for having jumped into the crisis too early and too boldly, making big bets on Goldman Sachs and General Electric during the fall of 2008, and urging the public to plunge into shares.

Now it's time for those critics to sit down for their traditional three course meal: humble pie, their own words and crow. Source: http://online.wsj.com/article/SB10001424052748704089904575093603081648166.html?mod=WSJ_hp_editorsPicks
Keep Your Brand Fresh. Being consistent in your marketing doesn't mean never change anything. In today's Heard on the Street column in the Wall Street Journal, Liam Denning writes that
Warren Buffett's latest shareholder letter can be summed up thusly: This isn't your father's Berkshire Hathaway.

The chairman's letter was billed, in part, as a "freshman orientation session" for Burlington Northern Santa Fe shareholders receiving Berkshire stock in connection with November's acquisition. Those investors thinking of buying a slice of Mr. Buffett's genius now that Berkshire's "B" shares reside in Standard & Poor's 500-stock index should join the class.

Mr. Buffett says he has lost his earlier distaste for capital-intensive businesses. Like other mature, successful businesses, Berkshire generates so much cash that deploying it all in high-growth investment opportunities is a stretch even for Mr. Buffett.

…Large, utility-like businesses offer what Mr. Buffett calls "decent" returns on a bigger slug of capital than higher-risk, potentially spectacular returns on smaller investments.

Jeff Matthews, author of "Pilgrimage to Warren Buffett's Omaha," reckons Berkshire is becoming more of a "widows and orphans" stock, with the investment case resting less on the alchemy of Mr. Buffett's stock picking. Less exciting, perhaps, but necessary if Berkshire is to carry on after America's most famous investor hangs up his spurs. Source: http://online.wsj.com/article/SB10001424052748703431604575095743489061252.html?mod=WSJ_Markets_section_Heard#articleTabs%3Darticle
Make it easier for people to do business with you. One of the reasons the shareholder's letter was a "freshman's orientation session" was because they added over 100,000 new shareholders during the year.
If you bought an advisor's book of business you would want to communicate the basics of doing business with you: communication channels. annual reviews, etc. If you added 10 new clients per living trust seminar, you'd have over 100 new clients at the end of the year. Never assume they know the in's and out's of doing business with you or how you invest or how you do financial planning.
Berthshire also did a 50 to 1 stock split to lower the share price of the B shares. A lower price means more people can buy a hundred shares. Plus they'll be added to the S&P 500 in a few months which means people will buy them when they buy the S&P 500 index.
Perhaps you only accept new clients with a minimum of $500,000 of investable assets. You could add a junior planner and lower your minimum to $250,000. This effectively lowers your "price" and makes it easier for more people to do business with you.