7 Ways to "Say it" and Not "Type it"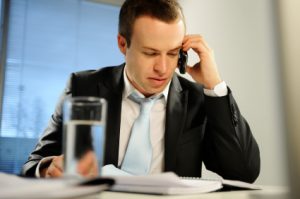 I have a client who is a painfully slow hunt and peck typist. And his handwriting isn't any better. Yet he is a clear thinker and speaker. Let me share how he reduced his typing time by over 50%.
He used to take handwritten notes during client meetings and then type them into Act! before the end of day. He knew he had to do it and when he was busy his notes were less detailed and only hit the highlights. Sometimes the handwritten notes went into the folder with plans to type them in later. Often his assistant would ask him to decipher what he meant so she could get them entered into Act! While necessary, this process was tedious and always a pain in the neck. No longer.
Now he just calls in client meeting notes into his cell phone and gets a Word transcript in a couple hours.
He uses the CopyTalk mobile scribe service. You can leave a message up to 4 minutes long. So at 250 spoken words per minute, you can record about a thousand words. For comparison sake, this article is 662 words. Maybe you type 50 words per minute. This service would make you 5 times faster…and no hitting the backspace key to fix typos.
You really can "say it" and not "type it" and be a lot more productive. So let's look at just how this works:
1.  Eliminate Handwritten Client Notes. Immediately after every client meeting, my client calls a phone number, enters his cell phone number and a PIN. He then has 4 minutes to describe what happened in the meeting:
What he learned about the client
What recommendations were made, and
What will be handled in the next meeting.
He hits the # key and it's ready for another message. Within 2 hours he gets an email with his spoken words typed (by a human being) as a Word attachment. He attaches it to the client's record in Act! and he is done. It saves an amazing amount of time and allows him to provide better service to clients. They think he has a prodigious memory because he recalls so much detail from the last meeting!
Now that you understand how the service eliminates the need for handwritten client notes, let me give you 3 other ways he uses this service.
2.  Client letter creation. He drafts client letters by calling in and forwarding the email to his assistant. She just copies the message into the letterhead template and prints it for his signature.
3.  Task Delegation. Instead of telling his assistant what he wants done, he delegates work with a detailed written description of what he wants done. And in much less time because he doesn't need to slow down and wait for her to scribble down some notes.
4.  Radio Scripts. He creates radio program scripts by practicing into CopyTalk. The printed "transcript" gives him something to reference in his own words.
Communication snafus with staff have been reduced saving them time and reducing frustration. Remember that helping your staff be more productive frees up their time for marketing activities as well. And handling more clients.
Click here and learn more about "Copytalk" services. Mention your broker/dealer and clearinghouse and you should get a discount off the monthly cost of $79.95.
You should also take a look at Jott Assistant found at http://www.jott.com/. Jott offers more and less than CopyTalk.
For $12.95 per month you can do an unlimited amount of 30 second voice to text conversions. 30 seconds means shorter messages, yet you can link Jott Assistant directly to Outlook, iPhone and Blackberry. Wherever you are, just call Jott and dictate….
5.  Email drafts. Get the first draft done quickly when you're away from your computer. Then clean it up when you get back and send it out.
6.  Calendar appointments. This helps keep your calendar up to date so your assistant doesn't double book you.
7.  Tasks. You just call your number, leave your task, and it appears in your Outlook Task List. One less thing to remember to do.
Jott allows just 30 seconds per message so you need to speak quickly and to the point. We all should develop this habit.
You can try it for free for 7 days and see if it works for you. It really depends how much you're away from  your office (i.e. your PC.)
Like everything else, you need to weigh the benefits of these services against the cost. The advisor who told me about CopyTalk would never give it up…unless he found a cheaper alternative which does the same thing.
Give these services a try and let us know work for you.